The North Olympic Library Foundation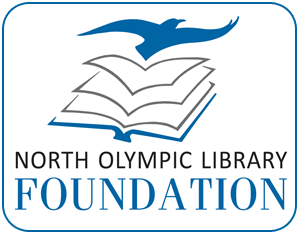 Mission
NOLF supports and aids in the enrichment of public library resources for the people of Clallam County.

Goals:
To sponsor new and innovative system-wide library programs and services that are beyond the limits of public funding.
To work with the Friends of the Library and other community partners in raising funds for major capital needs
To build an endowment of $5million to support the ongoing development of collections of books and other materials in NOLS libraries
About NOLF:
The North Olympic Library Foundation (NOLF) was established in 2012 to strengthen support for our excellent library system. NOLF's focus is on building an endowment to support collections of books and other library materials, including e-books and downloadable audio books, and to finance system-wide programs and projects that are beyond the limits of public funds.

The Foundation answers the desire of library lovers to provide the library system with major gifts and bequests, and to receive grants. NOLF funds will address system-wide technology and capital needs, raise awareness in the community about the library, and test innovative new services.

The Foundation is a not-for-profit 501 (c ) 3 corporation registered with the IRS and the State of Washington. It is governed by a volunteer board of directors. Your gift to NOLF is tax-deductible as allowed by U.S. law.

Board of Directors:
Nina Pitts, Chair
Marilyn Clark, Vice Chair
Colleen Cunningham, Secretary
Patrick Irwin, Treasurer
Mark Urnes, Member, NOLS Board of Trustees
Noah Glaude (ex officio), NOLS Director
How NOLF differs from the Friends of the Library:
While the Foundation works closely with the Friends, each organization is a separate non-profit supporting NOLS in different ways. Four dedicated Friends of the Library groups support their respective library branches in Clallam Bay, Forks, Port Angeles and Sequim. The Friends help their local branches through volunteering, fundraising and sponsoring programs.
The Foundation seeks major gifts, grants and bequests to support system-wide needs such as vehicles and technology. NOLF does not supplant the Friends' grass-roots advocacy and fundraising efforts.