Welcome to the North Olympic Library Foundation
---

The North Olympic Library Foundation cordially invites you to its inaugural event.
Please join us for a friend-raising, with wine, light appetizers and conversation.
Meet winemaker and NOLF community partner David Volmut, proprietor of Wind Rose Cellars,
and enjoy acoustic jazz guitar by Gerald Braude.
Saturday, March 1, 2014, 4-6pm.
Wind Rose Cellars
143 West Washington Street, Sequim
$20 per person to cover the cost of the event.
Cash or checks at the door only, please.
Space is limited - kindly RSVP to 360.417.8500 Ext 7715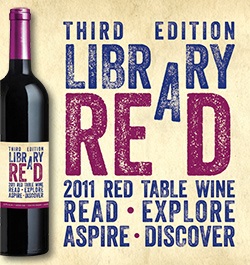 Library REaD

Support the Foundation and enhance library services by purchasing a bottle of Library REaD created by Wind Rose Cellars. Library REaD is a 2011 red wine in the Italian tradition. Wind Rose Cellars is donating proceeds from every bottle to the North Olympic Library Foundation, the Port Townsend Library Foundation and the Jefferson County Library.
For more information, visit Wind Rose Cellars at 143 West Washington Street in Sequim, call 360.681.0690, or go to windrosecellars.com. Production was limited and supplies are dwindling, so if you cannot find Library REaD at your favorite wine merchant, please notify us.